The rector and his team
At Fourvière, the rectory is composed of priests, deacons, laymen and volunteers who have authority to serve the liturgical and sacramental life. Helped by chaplains Bishop Le Gal, rector of the sanctuary, coordinates the whole spiritual services.
The rector and the chaplains of the basilica of Fourvière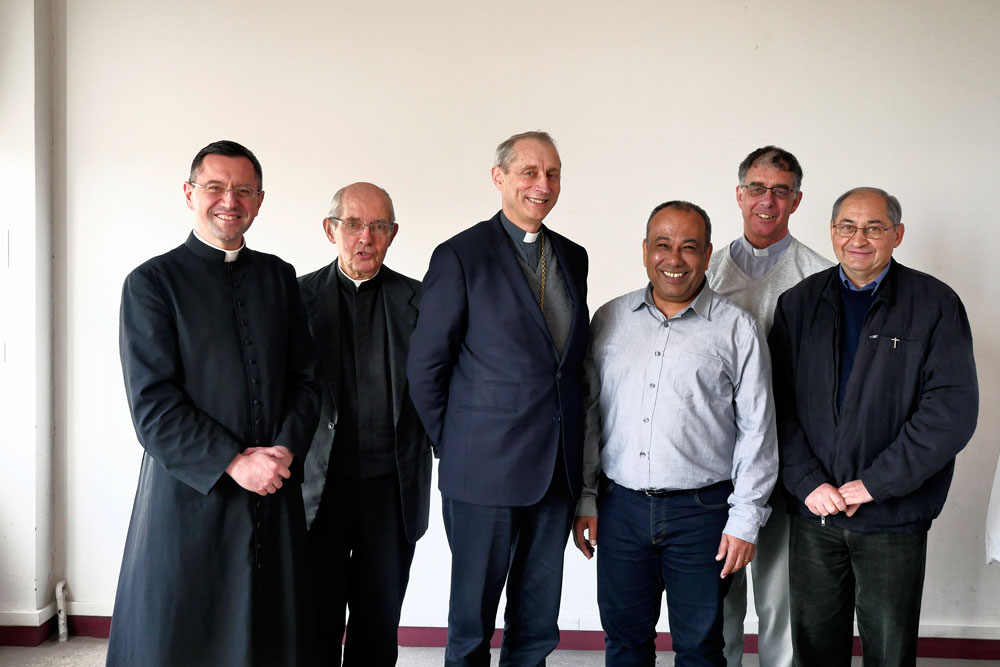 Bishop Patrick Le Gal has been the rector of the Sanctuary of Notre-Dame de Fourvière since 2013. Graduated from the Rouen Business School, he entered the University of Friborg in Switzerland where he obtained a degree in theology.
He was ordained priest on December 8th, 1982 for the community of Notre Dame de la Sagesse and was consecrated Bishop on December 7th, 1997 for the diocese of Tulle. He became Bishop of the French Armies in 2000. In 2009, he is Auxiliary Bishop of Lyon.

THE CHAPLAINS OF FOURVIÈRe

Father François de Vorges
Father Gilles Sander
Father Laurent Spriet
Father Olivier Velut
Deacon Adel Camel
Organist and Master of Chapel
Yves Lafargue – Organist
It was while accompanying Palm masses in 2006 that Yves Lafargue took office as titular organist, in the service of the sanctuary of Fourvière. From Sunday to Sunday, the liturgical organist supports choirs, he plays an appropriate solo repertoire, improvises: he brings a musical color to the liturgy, through his skills and sensitivity.
At Fourvière, this service is enriched by a cultural component: the organisation of organ hours. Finally, as soon as he arrived, Yves Lafargue integrated the sanctuary music service, and more recently, the cultural center of the Fourvière site. By participating in the choice of songs and by composing, according to needs, psalms (the Psalter of Fourvière), vespers, and lately, a "Our Father", he endorses the centuries-old craft of the church musician.
NICOLAS MASTER OF CHAPEL AND THE MASTER OF FOURVIÈRE
Nicolas Porte has been a choirmaster since the creation of Les Petits Chanteurs de Saint Marc, in 1987. He teaches music at the Saint Marc Center in Lyon, he is also master of the Chapel of the Basilica of Fourvière and musical director of many musical associations present in Rhône-Alpes.